January 12, 2019
Just because it's cold outside, it doesn't mean that you can't still play and have fun with your furry family members!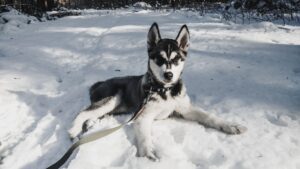 Keep in mind that cold temperatures mean taking certain precautions because not all breeds are suited for romping around outside in the winter. Smaller and short-haired dogs get colder much faster than their medium or larger sized counterparts. Don't be afraid to bundle up your pups with a coat or sweater and maybe even some snowshoes! They'll be cute and warm – perfect combination! After all, this is one of the reasons why people love Siberian Husky puppies. Okay, now onto the games you can play with your pup outside during the winter!
Sledding
This was fun for you as a kid (and an adult) and it's fun for your pups too! If you're located near a hill or have access to one, take one of our Siberian Husky puppies with you. Make sure your sled is size appropriate for your pup and get to it! Oh, we also make to make sure that your doggy is safe, so a harness is necessary and recommended, not a collar. Your pup can either be pulled or do the pulling, depending on the size. This is especially fun if you have little kids!
Scavenger Hunt
Beautiful white snow is the absolute perfect hiding place for toys and things and playing with dogs in the snow is perfect! You can get creative and with things like tennis balls, treats, etc. Take the time to hide them around your front or backyard and test your puppy's nose tracking skills and sense of smell. This will provide mental and physical stimulation for your pup. It'll also enhance his problem-solving skills, so get the healthy treats ready to serve as a reward!
Skijoring
Okay, this is another fun activity to do with one of our Siberian Husky puppies for sale. Skijoring is basically like cross-country skiing, with some assistance from your dog. Your pup must be harnessed to you or whoever is with him and the harness should have a quick release attachment. This is only needed if you have to disconnect your pup or yourself if either of you should fall. Your dog will be pulling as you maneuver your skis and poles.  You're both bound to have tons of fun!
The winter months don't have to be boring and sedentary for you or your furry baby! Take the time to learn these fun games and get out there with your pup!