September 23, 2021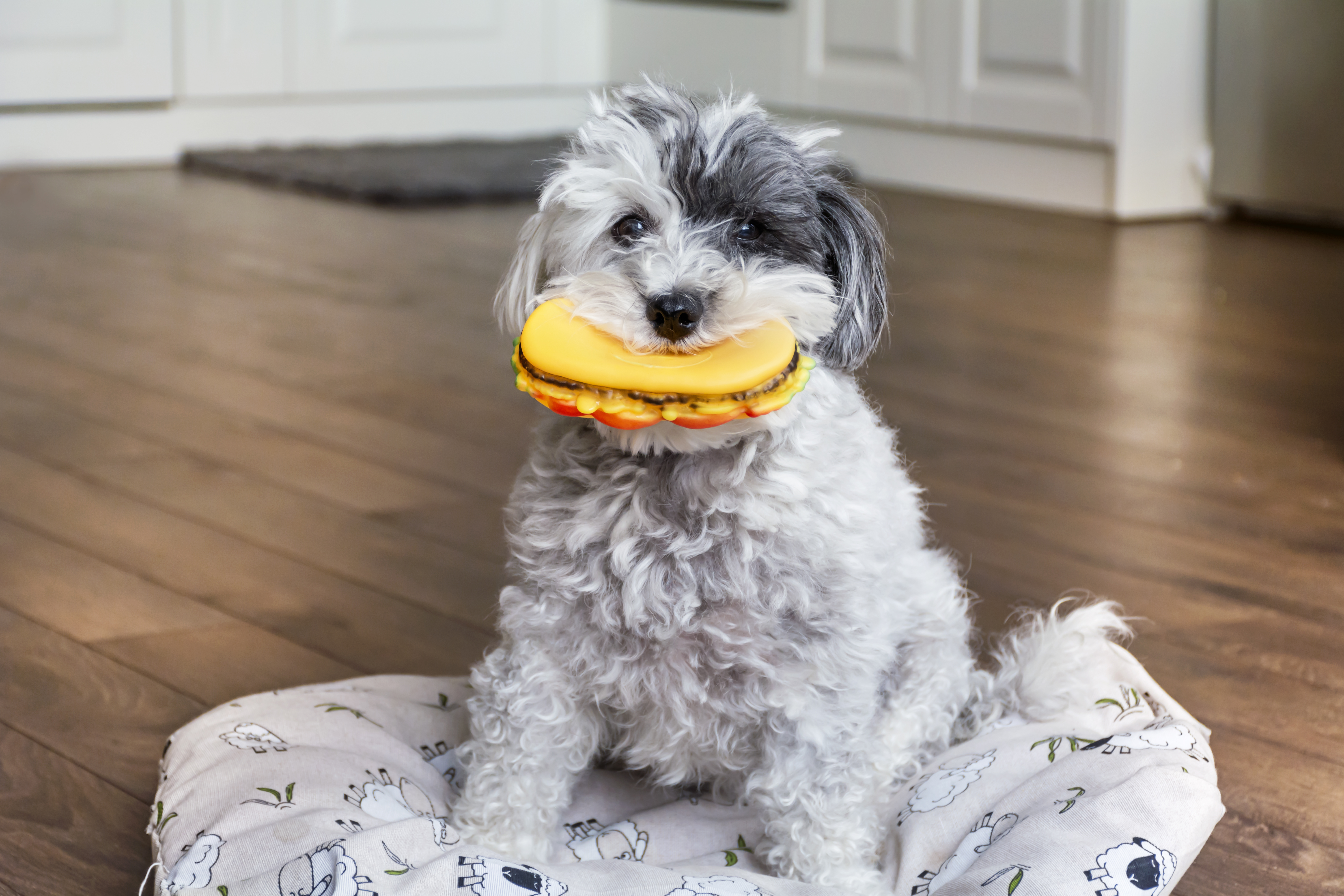 There are so many ways to entertain your pup. With work-from-home becoming a new option for many Americans, there are tons of perks – one of which is being able to snuggle with your dogs in between Zoom meetings.
What's the easiest (aka the best) way to keep them quiet and entertained all day? One of the best things to do is lean on stuffable toys! There are tons of varieties to choose from that are durable, dishwasher safe, and all different sizes.
One option is to simply put kibble or treats in the toy and give to your dog but crafty pups may figure out that game easily; in which case, we have recipes for you that you can use to layer and freeze to keep your furry buddy busy for hours.
The Gobbler
Thanksgiving can be any time of the year for your dog with this one! Turkey, cranberry, and green beans combine to give them a festive treat.
¼ cup cooked green beans
¼ cup boiled turkey breast (or 1 slice of low sodium turkey deli meat)
1 Tbs cranberry jelly
½ cup low sodium chicken stock
Combine all ingredients in a small bowl and pour into the stuffable treat, or layer items one by one and pour chicken stock on top, put in the freezer for at least four hours and then pass to your pup for a brain workout!
Supreme
If your dog was human for a day, one of the first things they would probably do is order a supreme pizza (or 5). We borrowed some dog-friendly elements from that famous recipe and think your dog will thank us for it.
2-3 "Less Sodium" turkey pepperonis
1 Tbs of cooked chicken sausage
¼ cup green bell pepper (no seeds, stem, or white included)
Sprinkling of mozzarella cheese
Combine all ingredients and place inside the toy, leave as-is and freeze or pour low sodium chicken stock over top to make it into a pizza-inspired popsicle.
The Fruit Basket
Some dogs have a big preference between sweet and savory – did someone say spoiled?
For pups who like the sweeter side, try out this recipe that combines fruits and applesauce.
¼ Cup blueberries
2 Tbs watermelon
2 Tbs banana slices
¼ cup no sugar added applesauce
Optional – you can top with coconut water or coconut milk but be mindful of how high-fat coconut milk is if you have a senior dog or a pup on a diet
Reserve 2 Tbs of whole blueberries and set aside. Use a blender to puree all remaining ingredients into a pup-sized smoothie, pour into a freezer safe plastic bowl or dog toy and top with the whole blueberries.
Sneaky Smoothie
For dogs who need extra nutrition or have vitamins/supplements/medications that are a battle to get them to take – try popping them into this concoction. They are likely to lap it up without any issue.
¼ cup spinach
2 Tbs strawberries
2 Tbs bananas
¼ cup nonfat Greek yogurt
1 Tbs honey
Blend it up and freeze into pupsicles or put into a toy or freezer-safe bowl.
PB & Jerky
We know. It wouldn't be our first choice either; but to a dog, peanut butter, bananas, and chicken jerky sound like a flavor-bomb they can't wait to get their paws on.
½ a banana
2 Tbs peanut butter
¼ cup cooked oats
2 pieces of chicken jerky
Set aside the jerky and combine all other ingredients. Insert the mix into a toy and nestle the jerky treats into the bottom. Freeze for at least four hours.
Freezing the mixture with half of a high-value treat sticking out will pique their interest and keep them occupied.
Extra Tips
Make their treats extra Instagram-worthy by using paw or bowl-shaped silicone molds to make little popsicles out of chicken/beef stock or fruit puree and popping on top of the toy.
It's easy to use part of whatever you have for dinner before adding salt or seasoning (and Googling first to make sure all elements are non-toxic if you're unsure); versus doing a specific grocery order for your pups treats – not that we would judge if you did.
Safe fruits and veggies for dogs include but are not limited to: dragon fruit, melons, apple (without seeds), blueberries, green beans, cucumber, carrots, sweet potato, butternut squash, and tons more!