October 28, 2018
Boston Terrier puppies are a playful breed with gobs of personality and energy! They are the perfect pet companion for a person with energy to match!
There is so much to say about the Boston Terrier's personality and overall disposition that makes them a great addition to many types of families. They are incredible with children and considered one of the top kid-friendly breeds. They are sturdier than other small dog breeds so they can handle a little rougher play time. Should you purchase one of our Boston Terrier puppies, you'll experience the joy of a comical and extremely playful breed.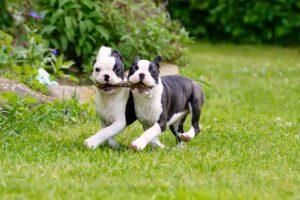 Did you know that Boston Terriers are one of the dogs breeds made in the U.S.A.? They are, in fact their name come from Boston, Massachusetts. Because of their sweet temperaments and beautiful tuxedo-like coats, they're affectionately known as the "American Gentleman." These dapper dudes have been an American staple since the 1960's and have consistently been popular pups in households across the country. So what do you think? Do you have the energy to match a Boston? Do you have the family dynamics to welcome one of our Boston Terrier puppies? Need more information? We've got you covered. Take a look at some more interesting facts about these bouncing beauties!
Once your Boston Terrier is full grown, they will range in weights from 14 pounds to as much as 28 pounds. They are generally healthy and have a lifespan of 12 to 14 years!

We talked about their handsome tuxedo coats, so we want to share more information on how to maintain them. Thankfully they are relatively low maintenance. They only require an occasional bath and brushing. Both will control their minimal shedding and keep their coats healthy and shiny!

Let's cover their energy and exercise requirements. They need it daily to burn it off! Take them on a daily walk and allow them to play throughout the day. When walking them, make sure it's not done for long periods of time in extreme weather. They can't handle hot suns or cold temperatures.
We could go on and on about our Boston Terrier puppies, but we want to know what you want to know! Feel free to give our knowledgeable pet counselors a call with any additional questions you have. Check out our available puppies page for a look at our Boston Terriers!