January 4, 2019
Old Man Winter is definitely in the house!
Everyone in your family, including the furry ones, is feeling it. Is cabin fever creeping in slowly but surely? Are you wondering if you can take one of the Boxer puppies for sale that you recently purchased outside and for how long? Just as with summer, there are some seasonal dangers associated with winter. Just because it's winter doesn't mean that you can't still safely enjoy time outdoors with your pups. Well, we've put together 5 factors that affect your dog's internal/external temperature.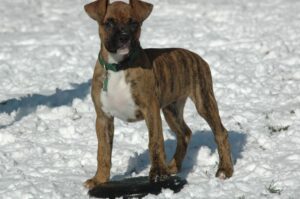 Their Size
Small dogs have larger surface area to volume ratios than that of larger dogs. So, basically the smaller the dog is, the more skin they have (which is in relation to their internal organs) whereby they lose heat. Essentially, the smaller the dog, the more susceptible they are to getting cold and faster.
Their Coat Color
If there is a clear and sunny day, dogs like our Boxer puppies for sale that have coats that are brown, black, brown, or any other dark colored dogs can absorb significant amounts of heat from sunlight. This keeps them warmer than lighter colored dogs.
Their Coat Type
This is pretty obvious, but we're sharing it nonetheless. Dogs that have thick and double-layered coats can withstand colder climates. Pups like Siberian Huskies needn't worry about freezing! Conversely, thinly-haired dogs like Dachshunds are more susceptible to feeling mother nature's cold wrath more easily.
Their Weight
As much as we don't want it, body fat is actually a great insulator. Dogs that are skinny, frail, or downright thin will most assuredly get colder quicker than those who are a bit heftier. This is probably the only benefit to being fat, so don't go running out to thicken up one of the Boxer puppies for sale that you purchased. They are strong and muscular already!
Their Age and Health
Just as with humans, very young or very old dogs are not able to regulate their body temperatures as healthier ones. As a result, they will need extra protection from the cold climates
What we've outlined are our top five factors that contribute to the warmth of dogs. We hope it's been helpful and useful in your day-to-day lives!