August 30, 2018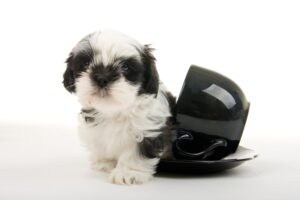 What are teacup puppies?  
Extremely small dogs are unofficially referred to as teacup puppies. And yes, you're right if you think that the beverage holder is associated with the name and size of the puppies. They actually fit in teacups, hence their name! They may also be referred to as micro-dogs, as well. In either case, the term is used to describe the size of a tiny puppy and not a breed, for there isn't one. Teacup puppies are both the result of intentional and unintentional breeding, and some are runts of the litter.
What are the sizes of teacup puppies?
Teacup puppies are typically under 6 pounds at their full grown weight and approximately 17 inches or less in height. Micro-dogs will weigh significantly less at 2 to 3 pounds.
What's the history of teacup puppies?
A lot of people tend to lump toy and teacup puppies together and they simply think that toy dogs are a new phenomenon. In actuality, it's the teacup puppies that are new. Toy dogs are documented as far as 12,000 B.C. Back then, several breeds were created in different sizes to serve different purposes. Some were bred as hunters, watch dogs, pet companions, or for the sole purpose of war. Also during those times, some toy and small dogs were domesticated and used as food or fur sources, while others were strictly treasured by their human families and thought of as companions. The latter was especially true for the wealthy. So why were there no teacup puppies during those times? It was simply because they were impractical and difficult to care for. Ancient humans had no way of doing that. The teacups of today come with more ancestral backgrounds and must be given careful maintenance of their health.
At Petland, our teacup puppies are well cared for and healthy little ones! If you're in the market for a teacup puppy, contact us today!