April 4, 2020
You have a few options when it comes to biking with your dog. You can put your dog in a basket or crate at the front of the bike, they can ride in a trailer behind the bike, or they can run by your side as you bike. Here are some tips on bike riding with your dog.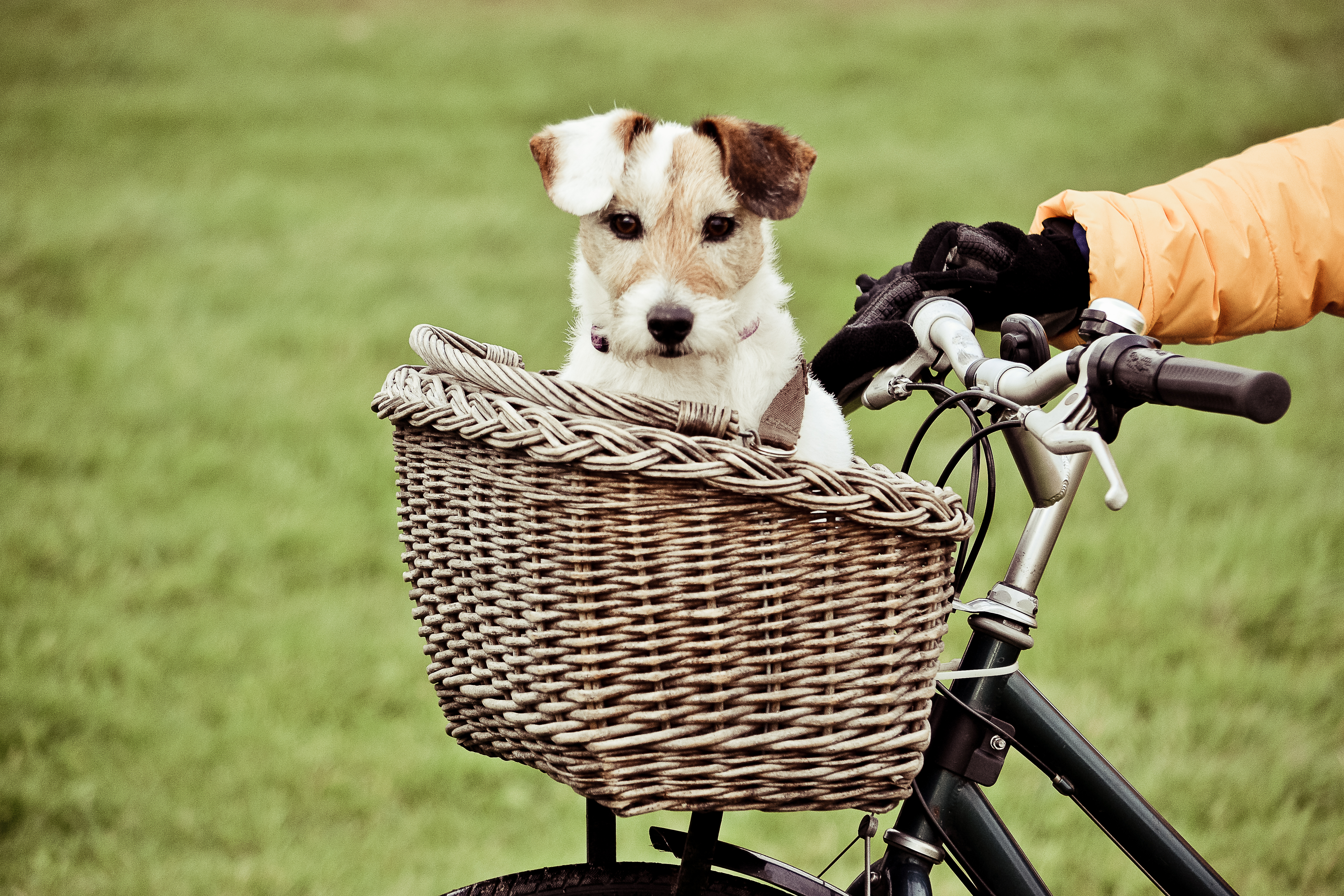 Biking with a basket or crate
For small to medium-sized dogs, there is a number of baskets, crates, and even specialized dog seats that can be used during your bike ride. Remember to harness your dog into the trailer, crate, or basket and give your dog some room to move without putting him or her in danger of falling. The basket or crate should be fastened to your bike as well.
Start off slowly to get used to the new (and wiggling) weight on your bike, but as long as your dog is reasonably calm, biking with a small dog in a basket or crate shouldn't be a problem.
Biking with a trailer
When biking with your dog in a trailer, start out by taking smaller trips to allow your pooch to adjust to the new ride. While every dog is different, a good benchmark to consider is how they'll behave in the trailer will most likely be similar to how they behave in a car. If they're usually calm in cars or new vehicles, they'll likely adjust quickly to the trailer. If your dog is particularly active or nervous in cars, they'll be even more active or nervous in the trailer, so be prepared for movement as you get used to biking with a dog in tow.
Biking with your dog
Most dogs love to run, and some breeds more so than others – looking at you greyhound and Vizsla owners. Dogs of any breed or size will enjoy a long jog in the park or a quick run around the block. And if riding a bicycle is something that you enjoy doing, taking your dog with you is a wonderful way to spend time with him while getting a good workout yourself. Here are few tips to teach a dog to run alongside you as you bike.
How to keep your dog by your side
If you usually ride your bicycle in your neighborhood, it won't be difficult for your dog to keep up. The safest way for riding a bike with your dog in this location is to keep him on a leash. This will help to prevent his from wandering away.
Look for a leash that allows you to keep your hands on the handlebars while giving you the ability to keep your dog on a leash at the same time. These types of leashes can be mounted under the bike handles. They offer protection and comfort for both you and your dog.