July 26, 2021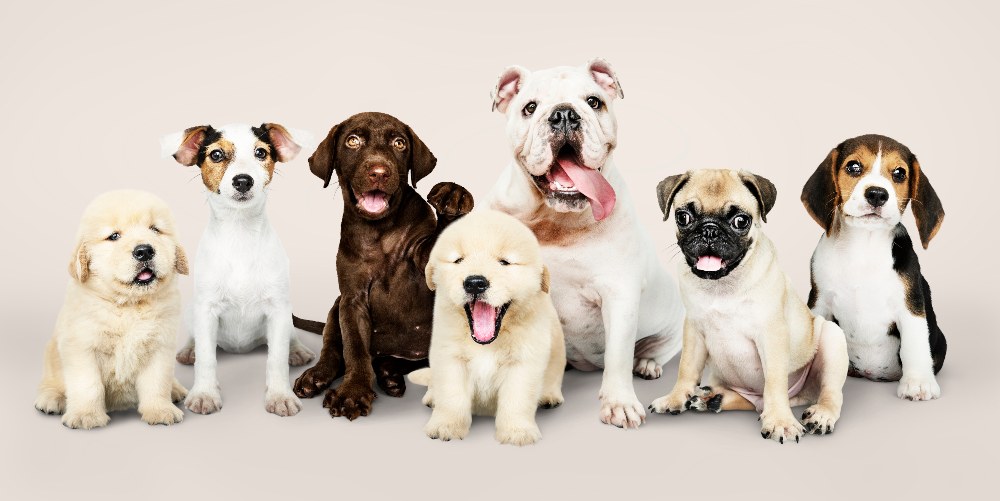 It feels like the stars align when you finally get to take your dog home and you probably picked up every adorable toy you could find in the store when you first got them. After a while they might have a few favorites that they gravitate to or you just can't decide what to get them.
If you were looking for a perfect excuse to get your dog a new toy – look no further.
We paired each zodiac sign with a dog toy (or game) for their main personality traits.
Don't know your pup's exact birthday? Don't worry – use their 'gotcha'/adoption day or simply scan the attribute descriptions of each sign and pick a sign that sounds like them!
Aries – March 21-April 19
Attributes: Confident, enthusiastic, optimistic
The confident one, Aries, leads the pack as the first sign of the zodiac. Happy and smart, we're starting off strong with a dog puzzle. Their (sometimes) stubborn nature goes down in our book as a positive trait and it means they'll stick with this puzzle until they figure it out. Whether it's a fancy plastic one with moving levels or a homemade game of cups, an inquisitive and challenging toy is no match for this furry leader.
Taurus – April 20-May 20
Attributes: Reliable, patient, practical
Patience is key to this game – hide and seek. While it may take a little training, we're willing to bet a dog with a Taurus birthday is up for the challenge. Using their keen ability to focus and sense of smell to sniff out where treats are hidden around the house will be their new favorite game that leaves them mentally wiped.
Gemini – May 21-June 20
Attributes: Gentle, affectionate, curious
Gemini puppies are very loving and might be the type to cherish the same toy from when they're little until very big so it's best to go with a classic stuffed toy in any animal shape: a duck, lamb, bear, moose, etc. are all cute and perfect options.
Cancer – June 21-July 22
Attributes: Highly imaginative, loyal, emotional
A cancer dog may (or may not) be a little extra needy when you go back to the office. So, a toy that they can snuggle with is perfect. A stuffed dog bone-shaped pillow is a great option. It's not a bad idea to put it on your own bed for a few nights before giving it to them so that it has your scent all over it and they can burrow right up against it whenever you're gone.
Leo – July 23-August 22
Attributes: arm-hearted, cheerful, humorous
Leos tend to be notorious for having loud personalities – and we love it! We're here for the dogs who want all the attention. Go for a brightly colored, larger-than-life stuffed animal (preferably larger than them) that they can drag around the house and show off to the whole family!
Virgo – August 23-September 22
Attributes: Loyal, analytical, hardworking
Something about the traits of a virgo just screams "sheepdog" to us – not sure why, maybe it's the 'hardworking' attribute. Anyway, these thinkers can really figure out tough problems so don't be afraid to pick a toy that includes a smaller toy hidden inside – like a tree trunk hiding little squirrels or a big toy with a bouncy ball in the center. These kinds of toys make them use their brain and also help them feel rewarded for a job well done by getting another toy out of it.
Libra – September 23-October 22
Attributes: Cooperative, fair-minded, social
For our social butterfly puppies, the libras, why not invest in a toy that they can use with their friends? Any two-sided toy will do; like a tug-o-war or a flex-frisbee.
As for only-child libras, picking up a doggy cam that throws treats to them or allows you to speak to them might be a good investment.
Scorpio – October 23-November 21
Attributes: Resourceful, brave, passionate
Little, scrappy scorpios really are brimming with life and energy. To keep them occupied and entertained opt for a toy that holds kibble or treats so that they can work to get them out and use that resourceful spirit.
Sagittarius – November 22-December 21
Attributes: Generous, idealistic, great sense of humor
A Sagittarius dog can really keep you laughing and they really are the main attraction – not the toy. There's no place better to get some giggles than throwing a good old fashioned tennis ball or frisbee with them in the backyard.
Capricorn – December 22-January 19
Attributes: Responsible, disciplined, self-control
For the kings and queens of self-control we think an automatic tennis ball dispenser is just what they need. Smart and disciplined, these dogs can learn the rules quickly and turn a simple device into hours of fun.
Aquarius – January 20-February 18
Attributes: Progressive, original, independent
For the ever-original aquarius, try a DIY project. Monitored closely by their parents of course, dogs with this birthday could really enjoy getting into their artsy side. Take a zip-top bag and spread peanut butter over the top, take a blank canvas, put a few drops of different colors of paint on it and seal it within the ziplock bag. Then, let your pup go down licking the peanut butter and simultaneously painting! You've got yourself a furry Picasso.
Pisces – February 19-March 20
Attributes: Compassionate, intuitive, gentle
A clever pisces puppy is capable of quite a lot. Go for a fuzzy toy with a silent squeaker or no squeaker. Squeakers in dog toys tend to mimic sounds of prey while silent squeakers are supposed to sound closer to a whistle. No promises that the whistle sound will get them less riled up but that seems gentler than prey sounds to us.
If you try out the toys on our list and feel like they're your puppy's perfect pairing, let us know!
Whether it's because of their zodiac traits, their adorable faces, or their constant love and companionship, we know we never get sick of spoiling ours.
Zodiac sign attributes taken from: https://www.astrology-zodiac-signs.com/