August 28, 2019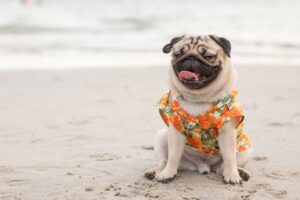 Summer is coming to an end, and now is the time to take a mini-vacation with your puppy.
Whether it's a weekend trip to play frisbee at the park or few days at the beach, your furry best friend is ready to get away from the daily grind and enjoy the fresh air and beautiful landscape that your state has to offer. Preparation is key when traveling with your pup! Before you take on the great outdoors with your pet, check out our top five tips to ensure your dog is happy, protected, and prepared to have an enjoyable mini-vacation.
Are we there yet?
Getting to the destination is the first half of the battle. If you're traveling around the Southeast, you will most likely opt for a road trip. Nothing beats driving on the open road through the Appalachian mountains and listening to your favorite tunes with your furry friend.  Just remember that your puppy isn't as accustomed to long car rides as you are. Instead of rushing to your destination, take the scenic route and offer your pup a break to stretch and use the bathroom every two to three hours. Also, alternate use of the air conditioning and fresh air from the windows so that your dog can stay cool but also enjoy the taste of the wind on his tongue.  If the drive is too long, and you choose to fly instead, remember to book in advance. Most airlines have limits to the number of animals they allow on each flight, so booking sooner than later can help make sure there is room for your pet. Once you've booked, prepare your pup for flying by obtaining specific details from the airline on requirements for flying.  Keep in mind, most airlines require your dog to be in good health before flying so you may have to present up-to-date immunization records or a recent health certificate from your vet.
Shots, Shots, Shots!
We're not talking about tequila. This is about a simple trip to the veterinarian to make sure your pup's shots are up to date. This precautionary measure may take a few more moments of your time, but it is well worth it in the end. While exploring the great outdoors your pup can be exposed to diseases that may be prevented through vaccines. If he's healthy and up to date on his shots, then he'll be ready to enjoy the end of summer experience without the concern of getting sick.  Don't forget to include flea and tick treatment in that visit, so those little pesky bites don't ruin your vacay. Once you have made the veterinarian trip and all is clear, gather your pet's documents and store them along with your travel documents. It is always a good idea to have an extra copy in case your dog's documents are lost or misplaced. 
Make a list and check it twice
Forgetting important items for your dog at home can surely ruin a mini-vacation. So, to avoid an unnecessary headache make a checklist and pack your doggy bag with care. Here are a few ideas to add to your list:
Any medications needed 

Special toys your dog may be attached to

Grooming products 

Dog food, water and treats

Non- toxic food and water dishes

An extra-long and retractable dog leash 

Poop bags 

And of course, Fido's favorite blanket
Practice makes perfect
It's not uncommon to see dogs free-roaming in moving cars, but it's not the safest option. A dog carrier can help to keep your puppy safe and comfortable during road trips. If your dog isn't crate trained before your trip go to your local Petland to speak with our Pet Counselors about buying the right size carrier for your dog. Having the right crate will help ensure your dog is comfortable while traveling. Make some short practice car trips to your local dog park so that your dog can practice riding in the crate. This will also help your pup associate a car ride as his favorite fun activity. Taking the time to train your pet to ride in a dog carrier will make you both more comfortable on the day of the trip. Riding in the car can be stressful for your pet, but if they are familiar with their carrier, it will make the trip easier.
Google it!
Use Google, TripAdvisor, and other online resources to research the area and accommodations you are traveling to. Many hotels may have rules regarding pets, so it's best to be informed before arriving. There are many dog-friendly hotels, and you can speak with a canine director or other knowledgeable staff members that can provide you with information on things to do with your dog in the area. Some hotels provide doggie beds and water bowls and a special area to ensure your pet gets the exercise they need. Dog-friendly hotels may provide special menus and a treat for your dog. It is always a safe bet to keep the treats you know your dog loves with you at all times. 
So, there you have it. Our five tips for traveling with your puppy couldn't be any simpler. Now you just have to do the hard part and choose between sightseeing and hiking or a relaxing trip to the beach. Whatever option you choose, you know your pet best. By keeping these tips in mind, you will surely have an enjoyable mini-vacation this summer.