October 28, 2019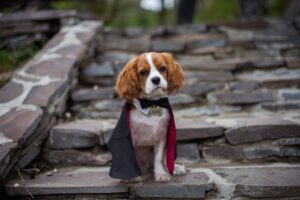 Halloween or as we like to call it "Howleen:" is here and we've scoured the internet and have found our favorite dog costumes! From elaborate DIY costumes to silly parodies, check out these 5 amazing dog and pet costumes and get the scoop on how to recreate these looks on your own.
Hula Dancer
If you want to say Aloha to your pup this Halloween, there's no better way to do it than dressing her up as a Hula dancer. All you will need is simply a Lei Flower necklace, a hula skirt, and a used bikini top. If you are feeling creative, try making the DIY version of the hula skirt, you will need is
natural raffia (Can be found at the craft store for around $3 – and the dog-sized skirt should take about 1 package)

scissors

thick, soft cotton string or cord
Here are the simple steps: 1)      Unroll your raffia. It will be bent and kinked from being rolled into a bunch, but we will fix that! 2)      Submerge the raffia in a sink (or bowl) full of hot water. Let it sit for about 5 minutes. 3)      Carefully straighten out the raffia and let it dry on a towel. 4)      Once it is dry, cut it to your desired length. First measure how long you want your skirt to be. Double this number and add 2 inches. For example, If you want the hula skirt to be 10 inches long, so cut your raffia in 22-inch pieces. 5)      Cut your cotton string to be the length of the dog's waist plus about 16 inches. Lay the string out. Take one piece of raffia and fold it in half, under the string. 6)      Take the ends of the raffia and fold down over the string and tuck into the loop at the top of the raffia piece. 7)      Pull the ends of the raffia tight. 8)      Repeat until you have your skirt as wide as you need. Trim the ends of your string, leaving enough length to tie the skirt easily. 9)      Tie your DIY hula skirt on your teeny pup. You and your pup will be on your way to enjoy a Luau this Halloween with this simple Hula Dancer costume.
Beenie Baby
If you were around to witness the 90's then you know about Beenie babies. Those miniature-sized teddy bears were the craze for more than a decade and now you can recreate the classic beanie baby teddy. This costume couldn't be more simple and it's a great way to showcase your dog.  You will need red, gold, and white paper. Metallic gold might be hard to find so yellow works just fine. Also grab a pair of scissors, a glue stick, and a photo of your dog. You will simply cut the 2 pieces of red paper, into identical heart shapes. Then do the same with the white paper. Glue the white paper to the red paper, so that one side is white and the other is red. Using the gold paper, cut out the letters "ty" in lowercase comic sans style font. Glue these gold letters to one of the hearts you made on the red side. Glue the two hearts together on one side with the white sides facing each other to bind it card style. On the inside of the card glue the photo of your dog along with some fun facts. Attached the completed heart to your dog's collar like a tag. There you have it, your very own life-sized beenie baby.
UPS Delivery Driver
When the UPS man is on your street it feels like Christmas. Pay tribute to your favorite delivery drivers by buying a UPS Delivery driver costume for your pup. You can find this awesome costume online for less than $20. It's perfect for small pups who don't mind wearing clothes.
Jester
Even though its Howleen, we don't want to forget about our feline friends. Cats are traditionally associated with Halloween.  Black cats particularly have been connected to myths about bad luck which can be bad news for your black outdoor cat. We recommend keeping your outdoor cats indoors on Halloween, to help keep them safe and reduce their stress from being around crowds of people. They can still join in on the festivities, by dressing up as a simple Jester.  This costume is simple and won't make your cat uncomfortable. Just simply purchase a Jester collar and watch as your cat stays entertained all Halloween night as she swats at the bells to hear the jingle sound. Fun and fashion, there's no beating that! 
Fairy
If you decide last minute to dress your dog up, and don't have time to order costumes online, a foolproof Halloween costume option is the fairy. A simple pair of fairy wings are inexpensive and your dog will be comfortable wearing them as they are similar to the feeling of wearing a harness.