November 8, 2018
Victory, The Golden Retriever – Ronald Reagan
Victory was one of the Golden Retriever puppies given to Reagan as a gift during a 1980 presidential campaign stop. Victory was obedient, well-mannered, and playful.  A lifelike holographic depiction of former President Reagan and his beloved Victory will be on display this winter at the Ronald Reagan library.
Fala, The Scottish Terrier – Franklin D. Roosevelt
Fala was given to Roosevelt by a family member and was his loyal sidekick, accompanying him almost everywhere he went. Fala was revered for his ability to perform entertaining tricks. The Scottish Terrier is memorialized next to Roosevelt in the Roosevelt Memorial, in Washington, D.C.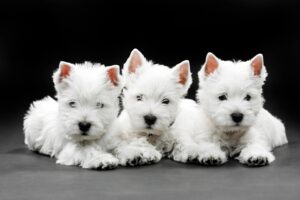 Vicki, The Poodle – Richard Nixon
Vicki is the infamous French Poodle who lived in the White House among the Nixons. When you search "Poodle for sale," it's likely that you'll find photos of the White House icon. Vicki enjoyed a life of luxury in the White House, living in a heated dog house on chilly days.
Bo & Sunny, The Portuguese Water Dogs – Barack Obama
Bo and Sunny made a grand introduction to the world through social media. Their twitter post on the Obama's page in August of 2013 was just the beginning of their journey to fame as they enjoyed life in the spotlight beside the Obamas.
Clipper, The German Shepherd – John F Kennedy
We all know that German Shepherd puppies are extremely lovable, which is why it is not surprising that the wife of JFK, Jackie Kennedy had a tight bond with the German Shepherd named Clipper. FLOTUS, Jackie even took Clipper on the occasional walk outside the White House.
Buddy, The Chocolate Labrador Retriever – Bill Clinton
Buddy was named in honor of Clinton's uncle who passed away shortly before Buddy, the dog, entered the family. Sharing the White House with the Clinton family cat named Socks proved to be quite the chore, resulting in the two pets living in two separate wings of the house
King Tut, The Belgian Shepherd – Herbert Hoover
Hoover used a photo with his dog King Tut to help highlight his softer side while he was on his campaign journey. King Tut's loyalty and protective qualities brought great joy to Hoover, as captured in the iconic photo.